Organizational
Restructuring
ORGANIZATIONAL
RESTRUCTURING
Some businesses find their organizational structure too robust for the size of their operation, but end up accepting that load due to opportunities in the efficiency of their processes.

Through the proper exercise of organizational restructure we are able to identify activities that have no value, eliminate unproductive time and reduce the verticality of supervisory levels. The aim of the exercise is to achieve a rightsizing of the structure. For example, define the optimal amount of resources to ensure the successful implementation of the strategy and business processes.

The evaluation can be performed on two fronts:
•Macrostructure: analysis of roles by position and department at the management level.
•Microstructure: analysis of burden at the operational level.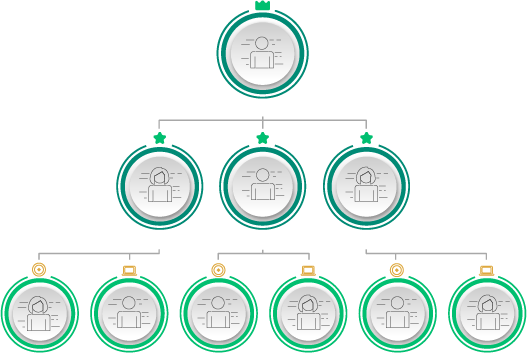 Due to the growth and development of enterprises, we find in the assessments and projects that sometimes companies do not stop to analyze the number of people the organization requires and usually begin to hire more staff, justified by the increase in sales or volume of work. However, this practice tends to create a heavy and less efficient structure, resulting in an increase in the expenses of the company.
Therefore, it is important to perform a thorough analysis of the organizational structure and implement the appropriate changes in the amount of human resources and procedures that lead to have the right amount of staff impacting the efficiency of the organization.
The implementation of a new organizational structure leads to cultural challenges, where we find resistance to change, sometimes from management levels that delay approval of the new structure. The method of communication with the organization is important to transmit adequately the objective of restructuring. The change in the structure must be linked to analyze the profile of staff and to define the compensation model to align the organization to the strategic objectives.
•

Lifting of the current structure: managers, departments, functions, activities, work volumes and control sections.
• SWOT analysis and preparation of proposals.

• Selection of the structure, communication strategy and implementation.
• Balanced and targeted lines of reporting to general management.

• Aligning the organizational strategy with each department.

• Performance management.
•

Selection of the structure, communication strategy and implementation.
• Detailed analysis of the current structure: managers, departments, employees, personnel cost, control sections, etc.
• Analysis of lists of activities (volume and workload, duplication of functions, synergies, non-value added activities, use of technological tools, etc.).
• Master plans that define the optimum number of staff.
• Profiles and job descriptions.
• Maximizing the use of technological tools.

• Increased productivity and service level.

• Reduction of personnel costs in the income statement.

• Optimization of business processes.
"Within the project, very important achievements materialized in both processes and financial results. Among those are: organizational structure. The structure was redesigned aligning missions and objectives of the areas to the ones of the company."
General Manager, Devanlay Lacoste, (Peru)