CHANGE

MANAGEMENT

The world's competitive environment forces successful companies to constantly evaluate the way they operate. Often this evaluation results in continuous improvement projects for processes, tools, and organizational restructuring, amongst others.

If the change process is not managed during the evaluation and implementation of these projects, the stress that these changes bring to the organizations, particularly to middle and operating management, can mean the difference between the achievement of the objectives or the failure of the initiative.

We offer our customers an integral project management methodology that allows them to maximize the results of the proposed solutions as well as the involvement of different positions and people within the organization.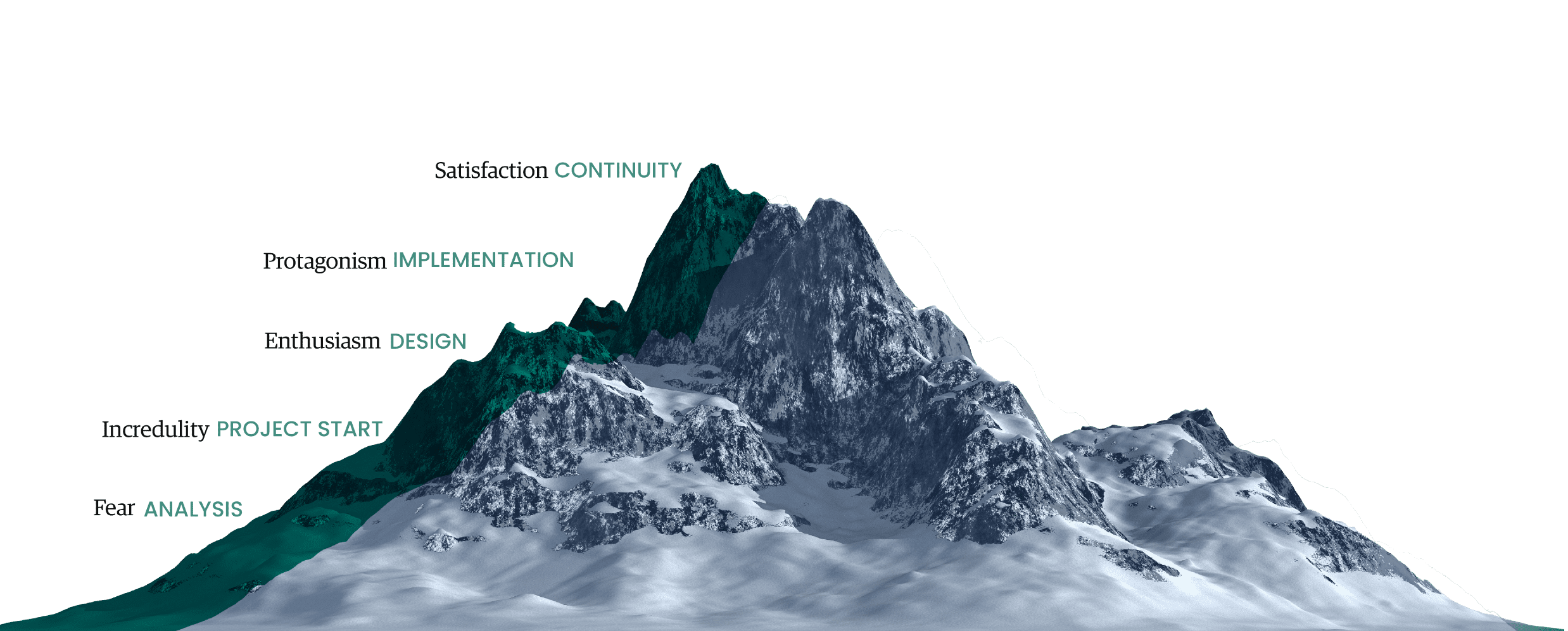 When starting process improvement projects or changes in the organization, companies can lose track of key success factors and best practices such as:

• Identifying the magnitude of the change: to recognize the number of people affected, their requirements as stakeholders, and the best way to teach and implement the solutions.

• Measuring disposition for change: understand the culture of each entity or department, the manager's level of consensus, past history of changes and other factors.

• Competencies: establishing what is the requirement of the competencies of each position and individual under the new procedure.

Due to the above, before a change process within the organization, a methodology should be established to facilitate the adjustment of the collaborators through participation, communication and training.
• Defining the vision and the sense of urgency of a project.

• Communication channels, formats, governance model and structure of meetings.

• Training at different levels of the organization, transferring the methodology that seeks to maintain the philosophy of continuous improvement.

• Identification, evaluation and selection of change leaders in different areas.

• Analysis of the competencies profile vs. job position.

• Application and evaluation of the activities lists.

• Incentive plans, not always monetary incentives, to increase motivation.

• Consequences management system.

• Developing management skills.
• Facilitate change and encourage active participation of other members.

• Ensure the involvement of all necessary personnel.

• Overcoming mental barriers that limit the creative and innovative process.

• Models and systems that anticipate and prevent resistance to change.

• Understand and align corporate culture.

• Promote a flexible and participatory environment.

• Hold results in the long term.

• Develop an action plan to implement what they learned in projects.

• Strengthening of management skills to facilitate change management at all levels of the organization.

• Strengthens the sense of belonging of the collaborators within the organization.

• Streamline the decision-making.